6 Supply Chain Trends to Look For in 2022
January 4, 2022
As we reflect back on the 2021 holiday shopping season, it's impossible to forget how many news outlets and industry experts hammered home the fact that supply chains—as a whole—are in turmoil. Between mass labor deficits, raw material shortages, and a huge spike in demand from eCommerce businesses, it's no wonder the industry is struggling to keep up.
But, if we've learned anything from our industrial history as a country, it's that we will continue to adapt, reprioritize, and evolve so that by this time next year, our supply chains will be in a better position than ever before. As we look forward to 2022, these are the top six emerging supply chain trends to keep an eye on.
1. SUPPLY CHAINS WILL CONTINUE TO SHIFT TOWARD MORE SUSTAINABILITY
Every year that goes by, businesses are being held more and more accountable for their sustainability efforts. Due in large part to the rising eCommerce business, supply chains have become an area of major focus in recent years, with pressure coming in from customers, employees, investors, and the federal government alike.
As a society, we know why sustainability matters, and we recently wrote about why sustainability matters for supply chains too. Not only can green initiatives help mitigate risk and reduce costs, but they can also help you build a stronger brand, improve your company culture, and boost your sales through a higher customer retention rate.
2. COMPANIES WILL DOUBLE DOWN ON SUPPLY CHAIN TECHNOLOGY
In order to keep up with the rapidly changing supply chain landscape, businesses will need to lean more heavily on a number of innovative technological advancements. From machine-learning A.I. and robotic automation to blockchain and the internet of things, there is no shortage of technology trends that will reshape the supply chain industry in 2022 and beyond.
3. THERE WILL BE A GREATER FOCUS ON DRIVER RETENTION
No matter how much you invest in automation, your goods simply cannot get to where they need to go with human drivers—at least not yet. The problem is, right now there is a severe shortage of both drivers and trucks.
According to Forbes, there is only one qualified driver for every 9 transportation-related job postings. And thanks to the rise in new Covid-19 variants, there is no immediate staffing relief in sight. This means that companies will need to really invest in keeping their current drivers at any cost, whether that's through increased pay, better benefits, or a number of other enticing incentives.
4. ELASTICITY WILL BE THE KEY TO OVERCOMING LOGISTICAL ISSUES
It's no longer enough for supply chains to survive on lean processes alone—they need to be agile and responsive to current market fluctuations as well. As a result, businesses are adopting a more flexible approach to their supply chain logistics.
By incorporating what's known in the industry as "elastic logistics," companies will be able to quickly and easily expand or contract their supply chains to match the current market demands. For instance, businesses can temporarily increase their amount of trucks, warehouse space, and overstock products during the holiday shopping season, and then pare back down during the slow months of January to March.
5. SUPPLY CHAINS WILL BECOME MORE LOCALIZED
It wasn't that long ago that eCommerce customers would expect—and be happy with—a package arriving in 3–5 business days. Now, thanks in large part to goliath players like Amazon, that expectation has drastically shifted toward same-day and next-day delivery. Because of the highly competitive market, other businesses are being forced to match these tactics if they want to keep up.
In order to fulfill these lightning-fast orders, the supply chain needs to shrink from a global or regional scale down to a much more local one. Local stores, warehouses, and distribution centers will need to be the ones to fill orders, and final mile delivery couriers will be more relied upon to get those products to their destinations across town as soon as possible.
6. THERE WILL BE A HEAVIER RELIANCE ON SUPPLY CHAINS AS A SERVICE
While 3rd party logistics (3PL) companies are coming out of the woodwork left and right, the fact remains that most companies in 2021 are still handling their supply chain activities in-house. As these internal teams become smaller and smaller though, they will soon need to start looking for outsourced supply chain management help.
With the overwhelming success of software as a service (SaaS) companies over the past two decades, it was only a matter of time before other industries began taking note. Fortunately, the supply chain industry did, and supply chain as a service (SCaaS) was born. Look for this industry to continue to grow in the coming year.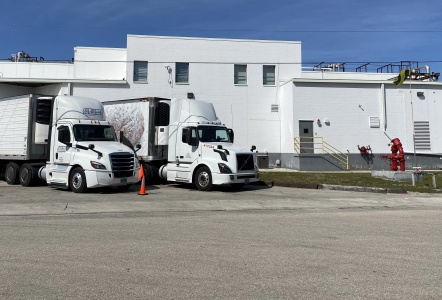 STAY ON TOP OF ALL THE LATEST SUPPLY CHAIN TRENDS WITH FLORIDA FREEZER
At Florida Freezer, our team of logistics professionals has been helping our customers succeed for over 50 years, and they can do the same for you. We are a family-owned and operated 3PL company that specializes in transportation coordination and cold storage in the United States and Canada.
Contact us today to learn how we can leverage the latest supply chain trends to maximize your operational efficiency and deliver greater ROI for your business.