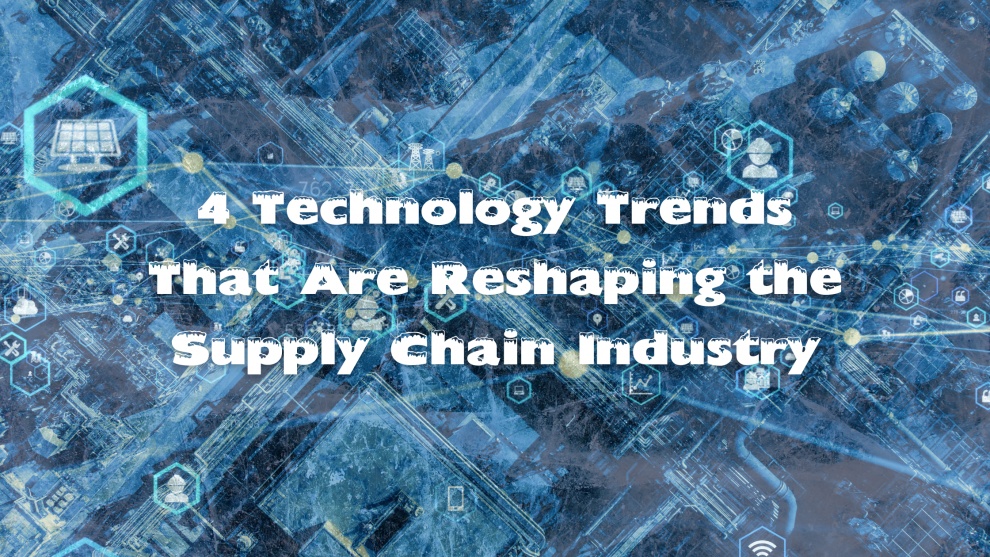 4 Technology Trends That Are Reshaping the Supply Chain Industry
October 31, 2021
When it comes to technological trends, sometimes it can feel like if you blink, you'll miss another groundbreaking advancement. While this makes it easy to feel overwhelmed at times, it's all the more crucial that you—as a supply chain manager or business leader—stay on top of these important changes.
After all, you definitely want to see your business succeed, and one of the best ways to assure this is by optimizing your supply chain. With that said, here are the top four technology trends that are shaping the future of supply chain management.
1. MACHINE LEARNING A.I. PLATFORMS ARE CONTINUING TO PROVIDE MORE ACCURATE AND VALUABLE PREDICTIONS
As artificial intelligence continues to evolve and become "smarter," so too do their supply chain projections. Several of the largest 3rd party logistics (3PL) companies have already begun developing and implementing A.I. software to give themselves an edge over the competition, and it won't be long before this is a must for anyone in the supply chain space.
It used to be that these programs would only provide the raw data, and it took a data scientist to interpret it and identify the key takeaways. Now, machine-learning algorithms can ingest decades' worth of granular freight data as well as real-time weather forecasts and other streaming data to produce incredibly accurate projections in only a fraction of the time.
2. COMPANIES ARE DOUBLING DOWN ON ROBOTIC AUTOMATION IN THE WAKE OF A SERIOUS WORKFORCE SHORTAGE
Whereas machine-learning A.I. is designed to tackle the most challenging, complex tasks, robotic automation is meant to streamline the simplest, most repetitive operations in your supply chain. Only ten years ago, there was a fear that robots would take away too many jobs from humans. Now, in today's post-pandemic world, it's the companies that invested heavily in robotic process automation (RPA) that are thriving amidst our current workforce shortage.
But that's not all. With the ever-increasing demand for same-day fulfillment of online orders, many warehouses and fulfillment centers are turning to automated storage and retrieval robots to fill the gap. These "robotic shuttle systems" are an advanced form of free-roaming robots that can greatly increase productivity and storage density.
Another area where automation is right around the corner is freight trucking. We're still several years away, but that hasn't stopped many big businesses (Uber, Amazon, Walmart, etc.) from pouring an unimaginable amount of money into road test after road test. As soon as the technology and street legality align, you can expect to see entire fleets of autonomous trucks on the road.
3. BLOCKCHAIN IS SEEING WIDER ADOPTION AS CYBERSECURITY THREATS CONTINUE TO PLAGUE BIG BUSINESSES
While blockchain technology is most often associated with Bitcoin and other cryptocurrencies in people's minds, it's actually incredibly valuable to many other industries—including the supply chain sector. According to IBM:
Blockchain is a shared, immutable ledger that facilitates the process of recording transactions and tracking assets in a business network. An asset can be tangible (a house, car, cash, land) or intangible (intellectual property, patents, copyrights, branding). Virtually anything of value can be tracked and traded on a blockchain network, reducing risk and cutting costs for all involved.
Compared to cloud sharing—the most commonly used method of data transfer today—blockchain is far more secure. This is due to the fact that it's unchangeable, incorruptible, and can only be accessed by parties that are granted permission by the owner. That means a blockchain network can provide immediate, transparent, and totally secure information regarding order tracking, payments, production statuses, and much more.
4. THE INTERNET OF THINGS IS THE TECHNOLOGY WE NEED TO INCREASE SUPPLY CHAIN EFFICIENCY AND TRANSPARENCY
The internet of things (IoT) is essentially a giant network of interconnected objects that interact with the environment around them and share that data via the internet. Don't just think of your traditional internet devices here, such as computers, smartphones, and tablets. The IoT includes things of all shapes and sizes, such as refrigerators, fitness devices, self-driving cars, and even football helmets.
If you haven't already guessed where this is going, the implications for the supply chain industry are nearly endless. GPS sensors can be fitted into trucks, trains, planes, ships—and even the packages themselves—to produce live location tracking for all shipments. Warehouse sensors are able to keep real-time inventory management, while similar devices do the same in retail shops.
As the availability of these devices continues to increase and the costs of them go down, logistics experts will have a much greater wealth of data to plug into their machine-learning software, bringing us full circle into the future of supply chains.

STAY ON TOP OF ALL THE LATEST SUPPLY CHAIN TECHNOLOGY WITH FLORIDA FREEZER
At Florida Freezer, our team of logistics professionals has been helping our customers succeed for over 50 years, and they can do the same for you. We are a family-owned and operated 3PL company that specializes in transportation coordination and cold storage in the United States and Canada.
Contact us today to learn how we can leverage the latest supply chain technology to maximize your operational efficiency and deliver greater ROI for your business.