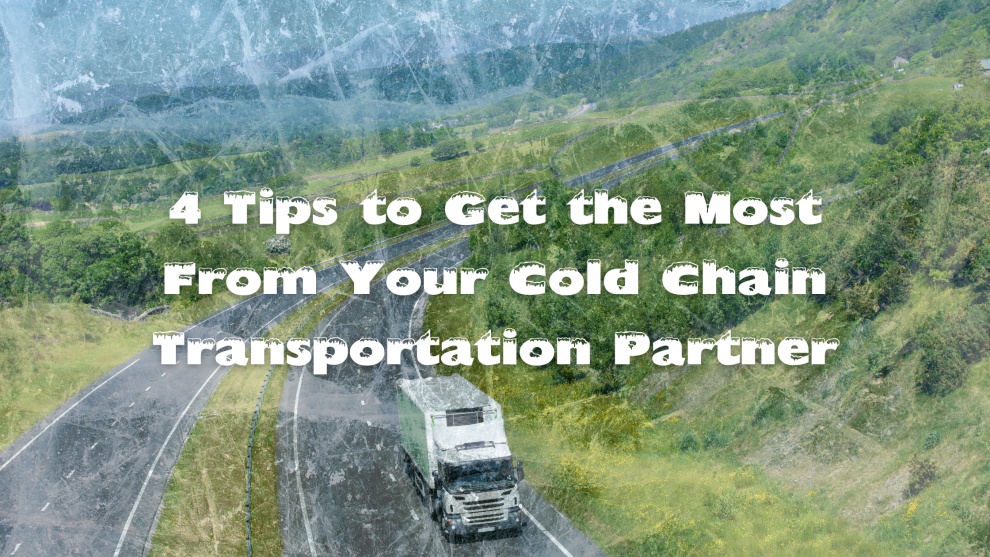 4 Tips to Get the Most From Your Cold Chain Transportation Partner
February 11, 2022
When you look back even 50 years ago, a transportation business was just that—a transportation business. They got your products where they needed to go and that was that. End of transaction.
Fast forward to today and there is so much national and international competition that even the smallest, regional transportation companies have had to adapt their businesses to keep up with customer demand.
So whether your business is looking for a new cold chain provider or you'd like to receive more from your current partner, there are plenty of things you may not even realize you're leaving on the table. Here are our top four tips to get the most out of your cold chain transportation partner.
TIP #1: CONDUCT A VENDOR REFERENCE CHECK
If you're looking for a new transportation partner, you should never select one—or really anything for that matter—without first doing your due diligence. This decision can have a huge impact on the success of your business, after all. Before signing with a potential carrier, be sure to ask them for a list of references that you can reach out to and learn a little bit about their working relationship.
Some key questions to ask references:
How long have they been working with the carrier?
What was their onboarding process like?
What is their overall impression of the carrier?
Do they take advantage of any value-add services?
Have they had any recent challenges, delays, or concerns?
Does the carrier lease or own their vehicles/equipment?
What are the carrier's sanitation processes and procedures?
Do they have any advice for maintaining a good working relationship?
TIP #2: COME IN WITH CLEARLY DEFINED GOALS
This should come as no surprise, but the goals of your business are probably not going to be the same as the goals of the carrier. What they define as a successful delivery, for instance, may not align with your definition, which will eventually lead to some confusion and misalignment.
That's why it's important to get your business' key performance indicators (KPIs) in writing and discuss them with your carrier as soon as possible so everyone can be on the same page. A good carrier will be able to adapt quickly and begin tracking their performance against these metrics moving forward.
Additionally, you should discuss what your goals will be one, five, and even ten years down the road. Having a clear path forward before signing a contract is the best way to keep both sides accountable and ensure these future goals can be achieved.
TIP #3: DON'T PURCHASE SOLELY ON PRICE
We get it—the price tag is one of the first things you look at when choosing between carriers, and often the sole determining factor. While every carrier can provide you with transportation and storage, no two will provide the same level of service. Of course, just because one carrier costs more, doesn't automatically mean they're the better option either, so you'll need to do your research.
Some questions to ask a potential cold chain transportation partner:
Do they have a wide range of capabilities?
Are they scalable enough to grow with your business?
Do they have a thorough knowledge of your industry?
Do they have strong partnerships and affiliations in place?
Do they have a reputation for award-winning customer service?
Do they have a proven track record of success?
While it may seem like you're paying more at first, the additional value you receive from this level of service will typically pay for itself over the long term. To learn more, check out our article on the 6 things to look for in a logistics provider.
TIP #4: CHOOSE A PARTNER WHO IS COMMITTED TO PROVIDING ONGOING VALUE
If you go into this relationship with a hyper-focus on the short term, you may be missing out on some great future opportunities. What you want is a cold chain partner that can grow with your business and offer specialized services you can use to continually enhance your supply chain and improve your customer experience.
Additional supply chain value-adds may include:
Case and/or each picking
E-commerce order fulfillment
Repackaging
Overnight shipping
Direct store delivery
Returns and damages processing (reverse logistics)
In-store rotation and service
Lift Gate delivery and pickup
Ask your potential carrier if they currently—or plan to—offer any of these services before signing on the dotted line. The best part is, by bundling these custom supply chain solutions under one provider, you'll generally receive more timely and cost-effective support.

CONTACT THE COLD CHAIN TRANSPORTATION EXPERTS AT FLORIDA FREEZER
Your customers rely on you to consistently deliver high-quality products, and you can rely on Florida Freezer to help get them there.
Here are 6 Reasons to trust Florida Freezer with your cold chain storage and shipping needs:
We have dozens of logistical services and offer customizable packaged solutions.
Our business continues to grow, with recent expansions to our cold storage operations.
We've been in the transportation and warehousing industries for over 50 years and have served customers across dozens of different industries.
We are proud members of the World Food Logistics Organization, the International Association of Refrigerated Warehouses, The World Group Cold Logistics Network, and more.
Our team of dedicated supply chain professionals is always ready with a smile and a helping hand to work with our clients on a personalized basis.
We have decades of proven success stories and satisfied customers. Give us a call today and we'll tell you all about them.