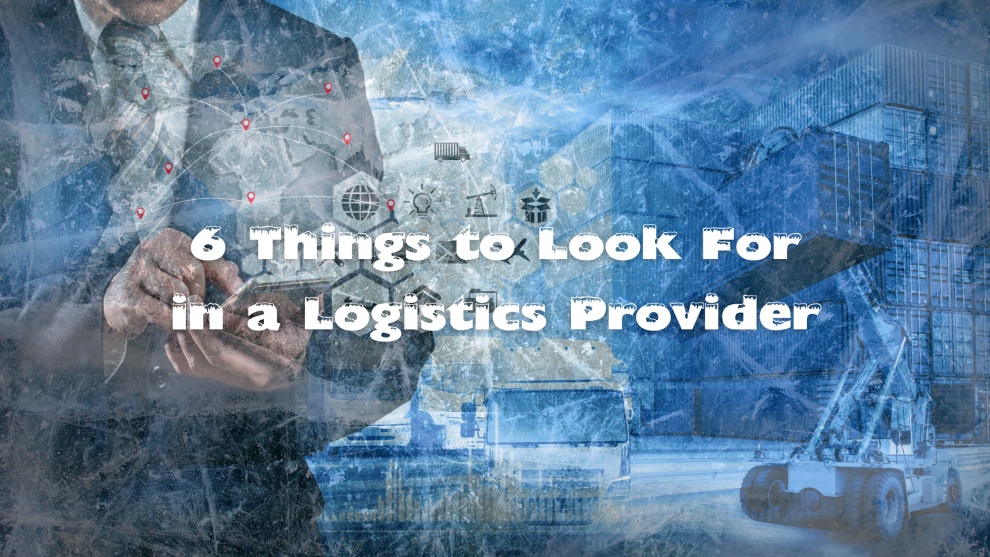 6 Things to Look For in a Logistics Provider
October 27, 2021
Are you looking for a new third-party logistics (3PL) provider that can improve your supply chain efficiencies, reduce your costs, mitigate your risks, and increase brand loyalty amongst your customers?
That's certainly a lot to ask of any 3PL company, which is why this is definitely not a decision you should take lightly. That's why you're going to want to do your homework before signing on the dotted line.
To help you find the perfect logistics partner for your business, here are the top six things to look for.
1. DO THEY HAVE A WIDE RANGE OF CAPABILITIES?
Just because a logistics provider is the best at coordinating shipments, for instance, doesn't make them a good fit if they can't provide many of the other critical services your business needs. In addition to storage and transportation, you want a partner that offers the specialized services your business can take advantage of to enhance your supply chain and improve your customer experience.
Comprehensive logistical services to look for:
Case and/or each picking
E-commerce order fulfillment
Repackaging
Overnight shipping
Direct store delivery
Returns and damages processing (reverse logistics)
In-store rotation and service
Lift Gate delivery and pickup
2. ARE THEY SCALABLE ENOUGH TO GROW WITH YOUR BUSINESS?
Just because a 3PL is the right fit for you today, doesn't mean they're going to be 5, 10, or 15 years down the road. We know you want to keep growing your business, so you need a partner that has the services, manpower, and drive to grow right along with you.
Growth questions to ask your third party logistics provider:
Can the company fulfill orders nationally and internationally?
Can they (or do they have a plan to) handle a significant increase in volume?
Will their customer service be able to support future demand?
Do they have additional services you may utilize down the road?
3. DO THEY HAVE A THOROUGH KNOWLEDGE OF YOUR INDUSTRY?
There are literally hundreds of 3PLs out there to choose from, so there's really no excuse not to partner with one that has extensive knowledge of your particular market. Every industry has its specific set of rules and regulations, and some of them are much harder to master than others.
Ask your potential logistics partner if they've worked with other clients in your industry. If they have, follow up by asking them what types of insights and operational efficiencies they provided to save that company time and money. If they haven't worked in your industry before, you might want to keep looking.
4. DO THEY HAVE STRONG PARTNERSHIPS AND AFFILIATIONS?
One of the most important things to look for in a new logistics partner is the strength of their existing partnerships. Do they have relationships in place with trucking companies, shipping lines, rail depots, port officials, and other important nodes in the supply chain? If not, your cargo is more likely to get held up and you could get stuck with less than desirable rates.
Another thing to look for is notable affiliations with other regional and national businesses. In addition, check to see if they're a member of any trade organizations and/or international associations. Not only does this mean they're held to a higher standard, but it's also a good sign that they have global connections for your business to leverage.
5. DO THEY HAVE A REPUTATION FOR AWARD-WINNING CUSTOMER SERVICE?
Do you really want to hire a logistics provider that doesn't treat its customers with patience and respect? The answer to that question is, of course, no! Just because their salespeople were nice to you when you initially met, doesn't mean you'll receive that same level of service throughout the entire relationship.
The first thing you can do is look online for customer reviews. Google, Yelp, and the Better Business Bureau are usually good places to start. If you can't find much online, don't be afraid to ask the 3PL for references, and pick up the phone and give them a call. Even if you don't intend to do that, the way they react to this request is typically a very telling sign.
6. DO THEY HAVE A PROVEN TRACK RECORD OF SUCCESS?
How long have they been in operation? And how long have they been providing the particular service(s) you're looking for? These are two very important questions to ask any 3PL before doing any business.
In addition to experience, you should ask about their safety record and how they plan to ensure the safety of your goods from the moment they leave your facility until they reach their final destination. This is especially important if you deal with dangerous and/or highly regulated materials.

FLORIDA FREEZER IS THE LOGISTICS PARTNER THAT CHECKS ALL THE BOXES
Your customers rely on you to consistently deliver high-quality products, and you can rely on Florida Freezer to help get them there.
Here are 6 Reasons to trust Florida Freezer with your cold chain storage and shipping needs:
We have dozens of logistical services and offer customizable packaged solutions.
Our business continues to grow, with recent expansions to our cold storage operations.
We've been in the transportation and warehousing industries for over 50 years, and have served customers across dozens of different industries.
We are proud members of the World Food Logistics Organization, the International Association of Refrigerated Warehouses, The World Group Cold Logistics Network, and more.
Our team of dedicated supply chain professionals is always ready with a smile and a helping hand to work with our clients on a personalized basis.
We have decades of proven success stories and satisfied customers. Give us a call today and we'll tell you all about them.