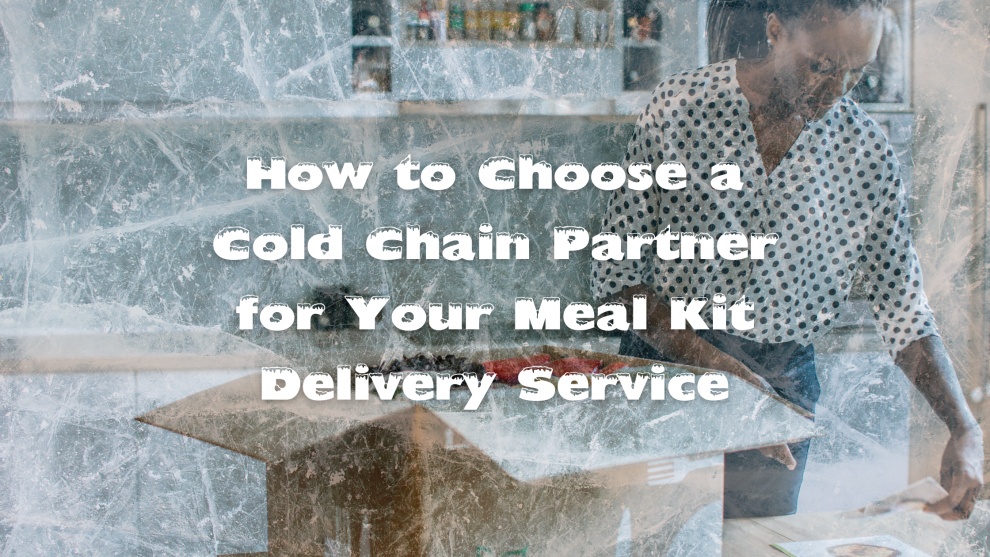 How to Choose a Cold Chain Partner for Your Meal Kit Delivery Service
March 4, 2022
Meal kit delivery services are becoming increasingly popular thanks to a rise in busy and on-the-go families seeking alternative dinner solutions. In fact, according to a report by Packaged Facts, 25% of Americans purchased meal kits in 2016.
As a result, more and more meal kit companies are popping up all around the country. Since 2012, the industry has expanded to over $5 billion in sales, with forecasters expecting continued growth. While Blue Apron and Hello Fresh are two of the most widely recognized brands, there are over 150 other meal kit companies all vying for your dinner dollars.
WHY DO AMERICANS LOVE MEAL KIT DELIVERY SERVICES?
What was once considered by many to be a mere novelty, meal kit services are continuing to capture the interest of a growing sector in America, including Gen X, millennial, and Gen Z consumers alike. Touting customized weekly menus, easy-to-follow recipes, and even vegetarian and vegan fare, these companies are catering to the time-constrained needs and dietary preferences of millions of consumers.
Perhaps the biggest selling point of these meal kits is how they're reinventing the nostalgia of classic, home-cooked meals. Those who value and prefer the in-home dining experience are appreciative of the fact that there is now a quick and convenient alternative to fast food and frozen meals, bringing the family back to the forefront of family dinners.
HOW TO CHOOSE A COLD CHAIN PARTNER FOR YOUR MEAL KIT DELIVERY SERVICE
Are you looking to found a new meal kit delivery startup? Perhaps you're the owner of an existing meal kit service that's looking to improve its cold chain operations? Considering the fact that your customers now demand local, unprocessed food, you need a reliable cold chain storage and transportation partner to ensure your ingredients stay fresh—from the farm to the front door.
So, how do you choose the right cold chain partner for your business? Here are four things to consider.
1. EXPERIENCE
It's incredibly important to make sure your potential partner has experience in the food industry. If they're more known for handling textiles and cosmetics than perishable food ingredients, you should consider bringing your business elsewhere.
2. INFRASTRUCTURE
Your partner should have a strong infrastructure in place, with cold chain storage and transportation capabilities that can meet your present and future needs. You may only be a small, local operation now, but when your business eventually takes off, you'll want a cold chain partner that's capable of keeping up.
3. CUSTOMER SERVICE
Your cold chain and logistics partner should be responsive and offer great customer service from day one. After all, you want to be able to rely on them to help you with any problems that may arise. The best way to determine the quality of their customer service is to look online for customer reviews on sites such as Google, Yelp, and the Better Business Bureau.
4. COST
While not the most important metric, you do want to make sure you get good value for your money. Your cold chain partner should be able to provide you with quality service at a reasonable price. If they can't, there are many others out there that would be more than happy to provide you with a more competitive offer.
CLOSING THOUGHTS ON PROVIDING SUCCESSFUL MEAL KIT DELIVERIES
Choosing the right cold chain partner is essential for the success of your meal kit delivery service. By considering these factors, you can be sure to find a partner that will meet your needs. For further reading, check out our 4 Tips to Get the Most From Your Cold Chain Transportation Partner.

If you're looking for a reliable cold chain storage and transportation partner, contact Florida Freezer today. We would be happy to discuss your needs and see how we can help.
Here are 6 Reasons to trust Florida Freezer with your meal kit storage and shipping needs:
1. We have dozens of logistical services and offer customizable packaged solutions.
2. Our business continues to grow, with recent expansions to our cold storage operations.
3. We've been in the transportation and warehousing industries for over 50 years and have served customers across dozens of different industries.
4. We are proud members of the World Food Logistics Organization, the International Association of Refrigerated Warehouses, The World Group Cold Logistics Network, and more.
5. Our team of dedicated supply chain professionals is always ready with a smile and a helping hand to work with our clients on a personalized basis.
6. We have decades of proven success stories and satisfied customers. Give us a call today and we'll tell you all about them.