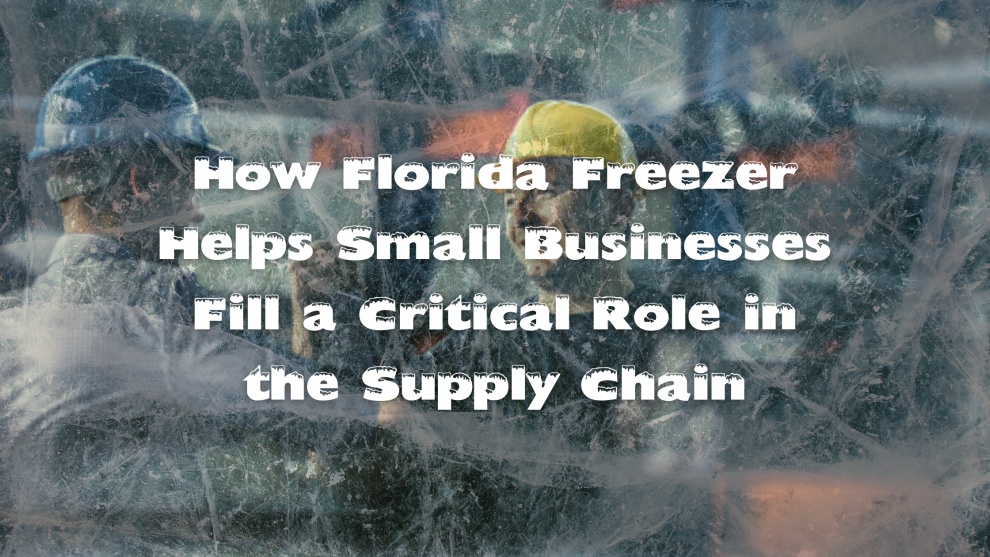 How Florida Freezer Helps Small Businesses Fill a Critical Role in the Supply Chain
April 29, 2022
In honor of National Small Business Week (May 1–7, 2022), we want to take this opportunity to shine a spotlight on the incredible "mom and pop shops" we work with every day.
Did you know that small businesses in Southwest Florida play a critical role in the national supply chain? It's true! These innovative and hard-working companies provide products and services that are absolutely essential to our economy, and Florida Freezer is proud to support them.
HOW FLORIDA FREEZER CONTRIBUTES TO THE SMALL BUSINESS SUPPLY CHAIN
As a leading provider of cold storage and distribution services, we work with small businesses to help them grow and succeed. By offering the following tailored solutions that meet their specific needs, we allow them to focus on what they do best—meeting the needs of their customers.
1. Long and short-term cold storage
For small businesses in the food and beverage industry, maintaining product quality and freshness is essential to success. That's where Florida Freezer comes in. Our state-of-the-art facilities are designed to meet the specific needs of each client, and our team of experts provides tailored solutions to ensure products are stored and handled correctly. Whether you need long-term storage for seasonal items or short-term storage for perishable goods, we have a solution that will work for you.
2. Third-party logistics and business consultation
In addition to our cold storage services, Florida Freezer also offers third-party logistics and business consultation. We work with our small business clients to develop custom solutions that streamline their supply chain and increase efficiency. Our team of experts has a wealth of knowledge and experience, and we're dedicated to helping our clients grow and succeed.
3. Reefer freight and dry shipping
Another way we support small businesses is by providing refrigerated ("reefer") transportation services. We have a fleet of modern, well-maintained vehicles that are equipped with the latest temperature-control technology to ensure your products arrive at their destination in perfect condition. Whether you need local, regional, or national transportation services, we can help!
4. Rail transloading and full pallet handling
For small businesses that sell large or heavy products, Florida Freezer is proud to offer industrial rail transloading services along the Seminole Gulf Railway. This cost-effective shipping method is perfect for small businesses that need to transport large quantities of goods over long distances. We'll pick up your products straight from your facility and load them onto our specialized rail cars for transport. It's that simple!
5. Custom repackaging and white glove delivery
When we receive your products at our facility, our team will repack them according to your exact specifications. This service is perfect for small businesses that sell products in bulk or need to consolidate multiple shipments into one. We also offer white glove delivery for small businesses that need an extra level of care and attention. With this service, we'll deliver your products directly to your customers' doorsteps—ensuring they receive the best possible experience.

SUPPORT A SMALL BUSINESS TODAY
As you can see, there are many ways that Florida Freezer contributes to the small business supply chain. We're proud to support the hard-working men and women who keep our economy running, and we're dedicated to helping them continue to grow and succeed.
This Small Business Week, we encourage you to support the businesses in your community that make our economy strong. And if you're a small business owner in Southwest Florida, we invite you to contact us today to learn more about how we can help.
Together, let's celebrate the power of small business!