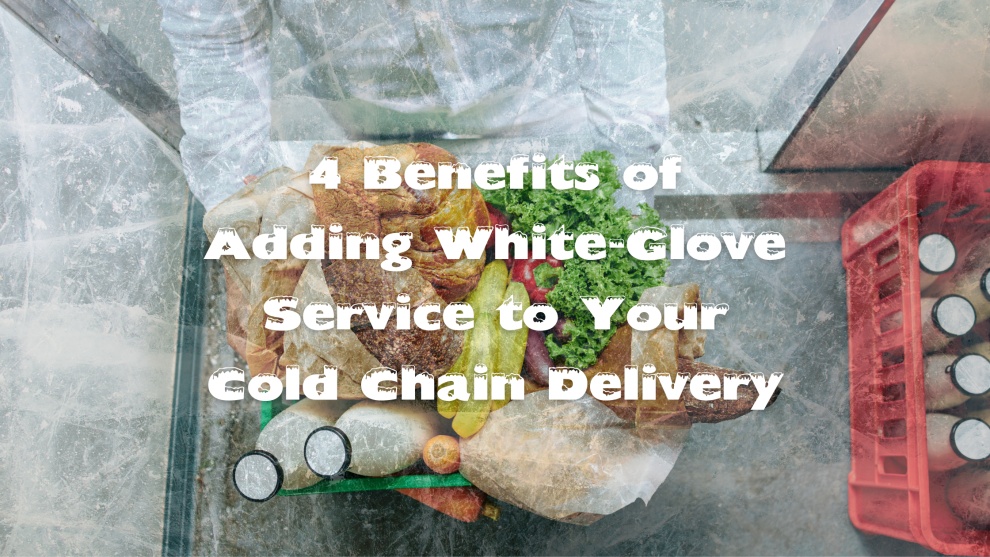 4 Benefits of Adding White-Glove Service to Your Cold Chain Delivery
March 31, 2022
You know the drill: your customers place an order for cold or frozen items, and you do whatever it takes to get those items delivered on time and in the best condition possible. But what if you could go above and beyond the call of duty to really wow your clients?
The good news is—you can! That's where white-glove service comes in.
WHAT IS WHITE-GLOVE DELIVERY?
"White glove" is a pretty common buzzword in the transportation world. In short, white-glove delivery is essentially a higher level of customer service that includes special care and increased attention to detail. Examples of white-glove service in cold chain delivery include direct store delivery, in-store rotation, lift-gate delivery, automated product scanning, and more.
Adding white-glove service to your cold chain delivery can have a number of benefits for both you and your customers. Here are just a few examples:
1. BETTER QUALITY CONTROL
With white-glove service, an extra set of experienced hands is available to take better care of your product, from loading and unloading to packaging and final delivery. This can help reduce breakage and damaged goods, ensuring that only the best quality product reaches your customers—and theirs!
2. ENHANCED CUSTOMER SERVICE
White-glove service is all about going the extra mile for your customer. By taking care of every last detail, you're sending a message that their satisfaction is your top priority. This can help build long-lasting relationships with your clients and turn one-time orders into loyal lifelong customers.
3. INCREASED EFFICIENCY
In some cases, white-glove service can actually help you work more efficiently and save you time and money in the long run. For example, if you're making frequent deliveries to the same store or client, having a dedicated white-glove team in place can help streamline the process through direct-store delivery, making each subsequent delivery that much easier.
4. IMPROVED SAFETY
Working with a white-glove service provider can help drastically improve the overall safety of your cold chain deliveries. For instance, by utilizing lift-gate delivery, your heavy and bulk items will be much easier to load and unload, reducing the risk of accidents and injuries to your delivery team. And with an extra layer of security and accountability in place, you can rest assured knowing your products will be handled with the utmost care at all times.



EXPERIENCE THE BEST WHITE-GLOVE SERVICE WITH FLORIDA FREEZER
There are many other reasons to consider adding white-glove service to your cold chain delivery, but these are a few of the most compelling. If you're looking for a way to set yourself apart from the competition, providing superior quality control and exceptional customer service with white-glove delivery is the way to go.
Utilizing these premium services is a great way to better protect your investment and ensure your products arrive at their destination in perfect condition. Contact Florida Freezer today to learn more about our white-glove delivery service and other customized delivery solutions.