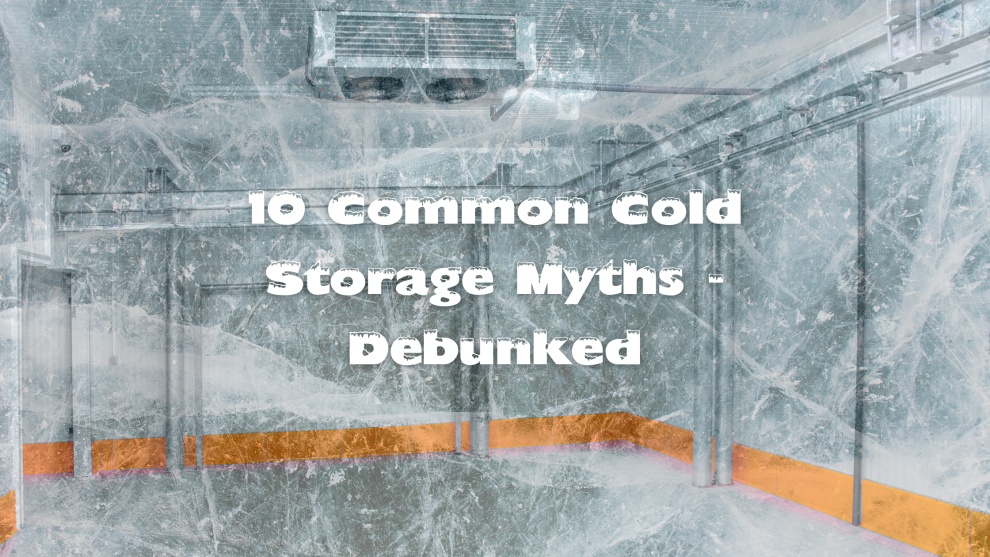 10 Common Cold Storage Myths – Debunked
June 24, 2022
When it comes to the cold storage industry, there are a lot of myths and misconceptions out there that are circulating among business owners. Unfortunately, these mistaken beliefs often lead to food contamination and spoilage, which can end up costing businesses time and money.
In order to debunk these misconceptions and provide the most accurate information possible, we've compiled the ten most common cold storage myths and explained why each one is wrong. Keep reading to get the REAL facts about cold storage.
MYTH #1: COLD STORAGE IS ONLY FOR LARGE BUSINESSES
At the top of our list of myths is the idea that cold storage is only practical for large, international businesses. While it's true that these facilities are often used by business conglomerates with expansive supply chain operations, they can also be a great option for small businesses and even individuals. If you have perishable items that need to be stored for an extended period of time, a cold storage facility may be the perfect solution for your needs. To learn more, read our most recent article on how Florida Freezer helps small businesses fill a critical role in the supply chain.
MYTH #2: COLD STORAGE CAN KILL THE BACTERIA IN CONTAMINATED FOOD
Another popular refrigeration myth is that cold storage can kill the bacteria in already contaminated food. This, of course, is untrue. While cold storage does slow down the growth of bacteria and other microbes, it does not eliminate them entirely. This means that it is incredibly important to store contaminated foods carefully from farm to table and dispose of them as soon as possible if they show any signs of spoilage.
MYTH #3: COLD STORAGE FACILITIES ARE BAD FOR THE ENVIRONMENT
Yet another recurring cold storage myth is that these facilities are bad for the environment. We are happy to inform you that this is not necessarily the case. In fact, cold storage facilities can actually help reduce food waste by allowing businesses to safely store damaged or contaminated food, rather than sending it straight to landfills. By choosing a sustainable and energy-efficient cold storage provider, businesses can do their part to help protect the planet and keep more food out of landfills.​
MYTH #4: FRESH FOODS TASTE BETTER THAN THEIR COLD STORAGE COUNTERPARTS
This persistent cold storage myth suggests that fresh foods taste better than their refrigerated brethren. While there may be a slight difference in flavor between fresh and cold-stored foods, this disparity is typically very minor. In fact, many people actually prefer the taste of some refrigerated foods over their fresh counterparts due to the fact that they are often lower in sodium and other preservatives. So if you're looking for great-tasting food that's also good for your health and the environment, consider choosing refrigerated and frozen foods over fresh ones. In addition to taste, there are four other compelling reasons to choose frozen vegetables over fresh.
MYTH #5: COLD STORAGE FACILITIES KEEP ALL GOODS AT THE SAME TEMPERATURE
This is another common cold storage myth that simply isn't true. In fact, most cold storage facilities have different temperature-controlled areas for different types of food and goods. For example, meats and seafood are typically stored at lower temperatures than fruits and vegetables to keep them fresh and prevent them from spoiling. So if you're looking to store food in a cold storage facility, be sure to ask about the different temperature options available so you can choose the best option for your needs.
MYTH #6: EGGS DON'T NEED TO BE REFRIGERATED
This seemingly timeless wives' tail claims that eggs do not need to be refrigerated. Unless you live in Europe, however, this is not the case. This cultural difference is a result of the way in which the eggs in each region are processed before they reach stores. American farms wash the eggs, which strips the protective outer layer known as the cuticle. Without the cuticle, eggs must be refrigerated to keep salmonella and other bacterial infections at bay. In Europe, it's actually illegal to wash eggs, so farms must vaccinate their chickens against salmonella and other bacterial diseases.
MYTH #7: COLD STORAGE IS ONLY FOR PERISHABLE FOODS
One of the most common cold storage myths is that these facilities are only suited for perishable foods. While it's true that they're often used to store fresh produce, meats, and dairy products, they can also be a great option for storing temperature-sensitive goods such as vaccines, flowers, and seven other surprisingly common non-food items. So if you're looking for a safe place to store bulk items that are sensitive to changes in temperature, a cold storage facility may be the perfect solution for you.
MYTH #8: HOT FOODS NEED TO BE COOLED FOR HOURS BEFORE REFRIGERATION
Another popular refrigeration myth is that hot foods need to be cooled for a certain period of time before being put into cold storage. In reality, there is no need to wait hours or even minutes before refrigerating hot foods. In fact, if you leave perishable food out for too long, you're only inviting bacteria and other microbes to enter the picture. As long as the food is cooled quickly, it can be safely stored in a cold place right away.
MYTH #9: REFRIGERATED FACILITIES ARE TOO COLD FOR COMPUTERS AND AUTOMATED SYSTEMS
Believe it or not, there is a myth circulating that cold storage facilities are too cold for computers, temperature sensors, and other automated systems to function properly. Since electronic devices aren't designed to withstand extremely low temperatures, this was a legitimate concern. Fortunately, early cold storage engineers were able to overcome this challenge by establishing protected areas within the warehouse. This allowed sensors and computers to be safeguarded from the cold and condensation in the storage area while providing reliable climate control technology to ensure all food stays fresh and safe.​
MYTH #10: OCCUPATIONAL SAFETY IS A BIG CONCERN IN THE COLD STORAGE INDUSTRY
Our final cold storage myth pertains to the idea that these facilities are dangerous places to work. While it's true that working in a cold environment can pose some unique challenges—and can be a bit uncomfortable for the less warm-blooded individuals out there—modern cold storage facilities are designed with occupational safety in mind. With proper training and the right safety gear, employees can safely work in these environments without any fear of injury. Want to come chill with us? Florida Freezer is currently accepting applications for multiple positions in our Southwest Florida facilities.



FLORIDA FREEZER IS THE COLD STORAGE PARTNER YOU NEED
The next time you're looking to store your food items safely and securely, don't be put off by these common cold storage myths. Instead, follow our cold storage tips above and consider opting for a cold chain solution that's right for you.​ At Florida Freezer, we have over 50 years of warehousing and logistics expertise with three conveniently located cold storage facilities in Southwest Florida. Contact us today to discuss what a tailored solution for your business could look like.