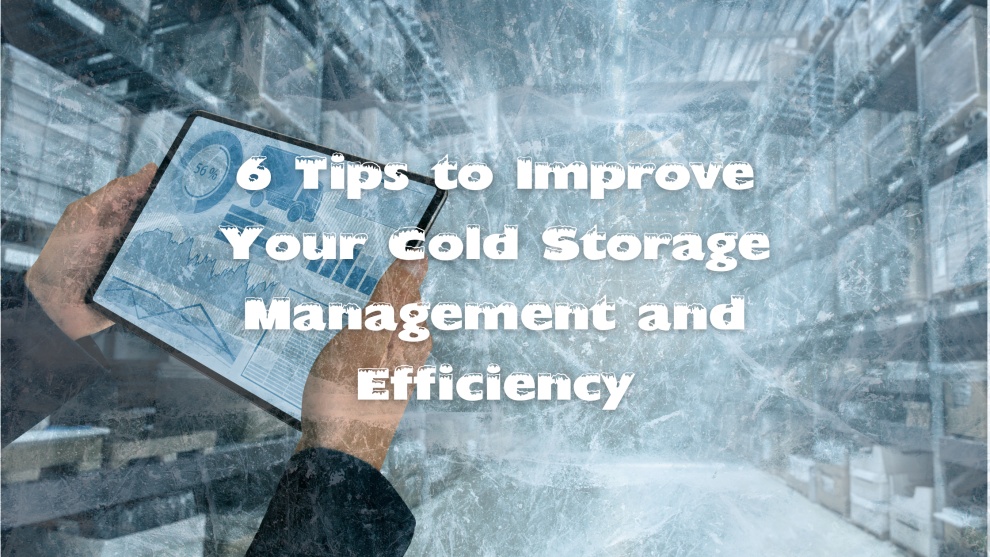 6 Tips to Improve Your Cold Storage Management and Efficiency
April 5, 2022
Cold storage is a critical part of many businesses, but it can also be a difficult one to manage properly. If you're looking for tips to improve your cold storage management, you're in the right place. In this blog post, we'll provide you with six simple tips that will help you increase the efficiency of your cold storage facility.
1. KEEP A ROUTINE INSPECTION SCHEDULE
One of the most important things you can do to improve your cold storage care is to establish and stick to a regular inspection schedule. Whether that means daily, weekly, or monthly facility checks should be determined by the specific needs and condition of your operation. This process will help ensure that any potential problems are identified and addressed quickly before they become bigger issues.
Some common things to look for during your inspections include:
Discoloration
Cracks
Mold
Rot
Ice buildup
2. CONSISTENTLY MONITOR THE TEMPERATURES
Another key part of effective cold storage management is monitoring the temperatures in your facility consistently and accurately. This will help you keep your products within safe parameters and avoid any potential spoilage. Be sure to take readings from several different spots in each room (near the ceiling, floor, doors, fans, vents, etc.) to ensure there aren't any severe fluctuations that could negatively affect your inventory.
3. ENSURE ALL DOORS ARE PROPERLY SEALED
If you want to maintain the cold air in your facility, it's important to make sure every door is properly sealed. A good seal will help keep the cold in and any warm air out, making your facility much more efficient. A leaky seal will require your cooling systems to work harder to maintain a steady temperature, resulting in higher energy costs. If you detect any cracks or damage, it is critical to repair or replace the door/seal as soon as possible.
4. KEEP THE CONDENSER UNIT CLEAN
The condenser unit is one of the most important pieces of equipment in your cold storage facility. It helps to cool the air and keep the temperature regulated. To ensure it continues to run at maximum airflow, it's imperative to keep the condenser unit as clean as possible. This means removing any dirt, dust, or debris that may have built up over time. You can clean the condenser unit with just a garden hose and normal water pressure—but be sure to unplug it first!
5. REGULARLY CHECK THE EVAPORATOR COILS
The evaporator coils also play a significant role in cooling the air in your cold storage facility. They absorb the heat by passing refrigerant through a metal jacket that lowers the temperature of the air. Because of this, it's important to regularly check these coils for any dirt, dust, or ice buildup. If there is a lot of buildup on the coils, it can interfere with their ability to properly cool the air. You can clean the coils with a metal coil brush or an industrial shop vac.
6. USE THE RIGHT KIND OF LIGHTING
The type of lighting you use in your cold storage facility is also important for maintaining an efficient environment. Fluorescent lighting is good for cold storage because it produces minimal heat and doesn't have a negative impact on the products stored there. Incandescent lights should be avoided because they produce a lot of heat and can lead to product spoilage. LED lighting is preferred in modern cold storage facilities to help keep expenses low. We also recommend you dim your lights since brighter lights produce more heat and require more energy.



GAIN A COMPETITIVE ADVANTAGE WITH FLORIDA FREEZER
By following these six simple tips, you can greatly improve your cold storage management and efficiency while keeping your frozen goods at their absolute best quality. For more information, contact Florida Freezer today!
At Florida Freezer, our team of cold chain professionals has been helping our customers succeed for over 50 years, and they can do the same for you. We are a family-owned and operated 3PL company that specializes in cold storage and refrigerated transportation in the United States and Canada.